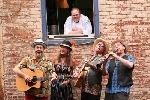 Date:
February 04, 2017 to February 04, 2017
Where:
The Otesaga Ballroom
Event Type:
Concerts & Music
Cooperstown Concert Series "Annie & The Hedonists"
It is indeed rare when we have returning performers, but this band just stunned our crowd during their 2013 show. Covering an eclectic mix of acoustic blues, vintage jazz and swing, and folk roots Americana, as one reviewer stated, "Annie struts right to the heart of each sassy, nostalgic song and gives us a piece of her mind in a voice that sits comfortably alongside the greats of the American jazz tradition."
7:30 pm in the Otesaga Ballroom. Tickets are available at Ellsworth and Sill, Riverwood, Church & Scott Pharmacy and The Fly Creek General Store. Tickets are often available at the door, though concerts sometimes sell out in advance. Please call Concert Series, not the venue, for concert information. All concerts are rain or shine, snow or ice.
For tickets and/or more information, please call 607-5471812 or email info@cooperstownconcertseries.org