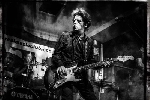 Date:
March 11, 2017 to March 11, 2017
Where:
The Otesaga Hotel, 60 Lake Street, Cooperstown, NY, 13326
Event Type:
Concerts & Music
Cooperstown Concert Series "Willie Nile"
We close the concert season with the great rock genius, Willie Nile. From The Who to Bruce Springsteen, Nile's rock fans are legion, and why not? Nile has produced classic work since his 1980 debut. His recent albums sit at the top of annual "Best Album" lists. Nile brings his crack band (including Oneonta's own Matt Hogan) to end the 47th concert season with power.
7:30 pm in The Otesaga Ballroom. Tickets are available at Ellsworth and Sill, Riverwood, Church & Scott Pharmacy, and the Fly Creek General Store. Tickets are often available at the door, though concerts sometimes sell out in advance. Please call the Concert Series, not the venue, for concert information. All concerts are rain or shine, snow or ice.
For tickets and/or more information, please call 607-547-1812 or email info@cooperstownconcertseries.org