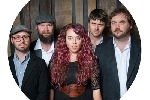 Date:
November 26, 2016 to November 26, 2016
Where:
The Otesaga Ballroom
Event Type:
Concerts & Music
Cooperstown Concert Series "Front Country"
What started as a group of friends playing bluegrass in San Francisco's Mission District has morphed into a touring powerhouse of song and sound, transcending their humble string band roots. Front Country's dynamic instrumental textures take flight with grace and gravitas while rooted in the relentlessly soulful vocals of lead singer-songwriter Melody Walker.
7:30 pm in The Otesaga Ballroom. Tickets are available at Ellsworth and Sill, Riverwood, Church & Scott Pharmacy, and the Fly Creek General Store. Tickets are often available at the door, though concerts sometimes sell out in advance. Please call the Concert Series, not the venue, for concert information. All concerts are rain or shine, snow or ice.
For tickets and/or more information, please call 607-547-1812 or email info@cooperstownconcertseries.org